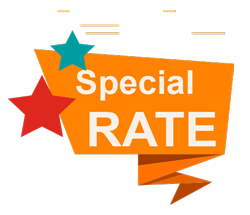 STUDIO
Low Season 2023 (April 01, 2023 – December 15, 2023)
1 or 2 persons:        US$     90,00             plus 12.5% Room Tax + US$ 3,00 BBV (Government Tax)
3 persons:                  US$   100,00               plus 12.5% Room Tax + US$ 3,00 BBV (Government Tax)
High Season 2023 – 2024 (December 15, 2023 – April 01, 2024)
1 or 2 persons:        US$     117,00           plus 12.5% Room Tax + US$ 3,00 BBV (Government Tax)
3 persons:                  US$     132,00           plus 12.5% Room Tax + US$ 3,00 BBV (Government Tax)
Low Season  2024 (April 01, 2024 – December 15, 2024)
1 or 2 persons:        US$     95,00             plus 12.5% Room Tax + US$ 3,00 BBV (Government Tax)
3 persons:                  US$   105,00               plus 12.5% Room Tax + US$ 3,00 BBV (Government Tax)
The studios have either 1 queen size bed or 2 separate twin size beds. For the third person: an extra rollaway bed. All our studios are located on ground floor.
Maximum of 3 persons.
Early Check-in at no extra charge based on space availability.
Check-Out time is 12:00 noon. If possible, for check-outs later than 12:00 noon: we charge an extra night.
All our rooms (Studios, Lofts & Suites) are NON-SMOKING! NO PETS ALLOWED.
Info about how to make the reservation and payment procedure, please click the button below.